Dear men!
Our agency organized meetings with real women from the profiles which you can see on site. The main purpose of the dating site is to acquaint people. The rules of our Dating Agency site -when a man can receive direct contact information of a lady or meet her in real life, not just communication by computer through the web. If the girls doesn't know English, then they can be helped by translators, but still the purpose of the marriage agency is to connect people helping them to meet in person.
What do you need for prepare your arriving to Ukraine (Kiev)
Nice weather in Ukraine start since May till November. If you like snow in winter also very interesting!
What you need for come here?
1. Plan dates you arriving.
2. Check if you need visa or now (If you need visa support you can ask us, for USA citizens no need) And by airplane tickets www.kbp.aero/en
3. Plan your accommodation. Possible from 10 Euros per.night and more Look www.bantik.kiev.ua
4. Plan your program www.tourinkiev.blogspot.com Tourist Attractions www.agape.kiev.ua Marriage Agency (dating in Kiev)
5. Ask your qq. agapekiev@mail.ru
Support in Kiev 24 hours a day Welcome to Kiev!
Anna Plaksina
Our website is designed for decent men who wish to make acquaintance with the Ukrainian women with the purpose of friendship, serious relations marriage. We have a lot of beautiful, decent, single ladies who turned to the agency with the same purposes. Ladies who are in our agency speak English, German, French and other languages. You do not have to contact translators, and you will be able to communicate with the ladies directly. Most of the ladies leave in Kiev. Some came to live in Kiev from the other villages and towns of Ukraine. And if you are looking for a simple lady from village or small town, then we can arrange a meeting for you.
Our web site conducts face to face meeting without long correspondence increasing the chances of meeting the right women but you can also take contact information of ladies before your arriving... You can email us to agapekiev@mail.ru with your details before you come to the Ukraine and we can create profile of women who suit your choices. If you are already in Kiev just drop in to our offices to check out our catalogue with photos of beautiful women. We are located in the city center at are convenient location. We can give you an option of choices of where to meet with the final decision being your choice of when and where to meet the lady. You pay for each lady you meet and if you decide you want to meet the same lady again you don't pay.
If you love to travel to visit new countries and cities to spend their leisure time pleasantly we will be happy to meet you. We provide a variety of services in Kiev, Ukraine: meeting at the airport, rental housing and varied acquaintance with serious, beautiful girls, for a serious relationship, marriage.
We're now watching the reputation of the agency and carry out the wishes of our customers. We have an individual approach to each. For 15 years of our work, we have introduced a total of more than 1,500 men. Girls from our agency married in many countries (USA, Germany, Switzerland, etc.).
Our international marriage agency Agape gives you a a wonderful opportunity for creating a stable and happy relationship with girls from Ukraine. Dear men, if you, after coming home, feel sadness and desperate need for a loving, caring, gentle partner, then you did the right thing contacting us. International marriage agency Agape will provide you with an internet site with charming Ukrainian beauties, with whom you will be able to get acquainted and, then to visit Ukraine and to meet in person the beautiful lady that you choose.
For this meeting we will help you with everything you may need: we will provide you with the good apartments in Kiev; qualified interpreters; and the most important thing - a romantic evening with the woman you chose to meet. Dear men, if you decided to change your personal life for better, then visit our site, and International marriage agency Agape will take care of your happiness.
Our agency do not uses letters-system, it is based only on real meetings in Ukraine. If you would like some real meetings, visit our site and make a free registration. Please tell us what you are looking for in a lady. After that, we will send you an e-mail with the ID of the girls who would like to meet you (this is free for you). We will be glad to help you to meet with the woman of your dream! There are many young, beautiful, and well educated women in Ukraine. In our site www.agape.kiev.ua we have many ladies who are to take the next step in their life to be a bride. Most women in this website are from Kiev, some are from the other Ukrainian cities. We offer you to make a free registration at this website; you can write e-mails to agapekiev@mail.ru with the numbers of the ladies, whom you like the best and write about the time, when you are planning to come to Kiev. We provide a real meeting with the girls – a real meeting is much better than writing the letters. When you meet with a girl – you pay only for a first introduction. You can take the ladies' phone number and e-mail address during your meeting with a girl. You can have a lovely time spending with a beautiful lady.
We can help you rent an apartment in Kiev. Also we can find accommodation for you if you prefer to stay in a home with a Ukrainian family. We can meet you at the airport too; we can help with translation; we can help you get around Kiev. Also our translator can travel with you to meet ladies in another city too. We have long experience working with foreigners. We have many couples: who met through our agency, got married, and now have children. We invite you to visit Kiev and use our website to meet a right woman for you. Kiev is a modern European city. The capital of Ukraine, Kiev is over 1,500 years old.It is located on the banks of the river Dnieper. We have many historical places and rich culture. People here are friendly. It is safe to be here. Welcome to Kiev!
Having addressed to us, you have already taken the first step on a way to creation of happy pair. Your desire plus the professional help of our matchmaking service can at last incorporate two loving hearts. How does it work and how to find the partner?
1. TELL ABOUT YOURSELF At this stage you fill the questionnaire at www.agape.kiev.ua or send a letter to the email: agapekiev@mail.ru, where one should specify everything that is considered to be necessary and useful: not only appearance parameters, but also features of character, behavior, out looks. And, of course, you should choose those qualities, which you would like to see in the partner.
2. TALK TO US After filling of the questionnaire in site or when you meet with manager you can personally discuss all the nuances with us. During the conversation we will define your goals and your wishes concerning your partner more precisely. Active interaction with us will help you to find the best partner for you faster.
3. MAKE THE CHOICE After a fruitful dialogue we can pick up in our extensive base those candidates, who correspond to your expectations in the best way: appearance, outlook on life, character, temperament, and career – everything that will be desirable for you. You can choose any person from the received list to pass to a following stage.
4. MAKE AN APPOINTMENT It is probably the most pleasant step. You can freely make an appointment to any candidate that you have chosen in our matchmaking service. Enjoy pleasant communication with the like-minded person. 5. FALL IN LOVE After all that is what you want. When you communicate with a lady in person, It is easy to fall in love and think together about your wedding day or simply enjoy the life with that one, who understands you in everything.
The only thing you need is to make a call to our matchmaking service, to come personally or to send the letter by e-mail. Even the most difficult road begins with the first step. Rules of dating service in WWW.AGAPE.KIEV.UA - We don't sell sexual service or escort service. We provide real meetings with those people who want to find their soul mates. - You invite a lady to a restaurant, bar, nightclub, theatre or other public places. If a lady's English skills are poor, you can hire an interpreter from our company or come with your interpreter. - You can get a lady's contact information for free, if she wants it, after your first date.
We guarantee: Every lady is not married and has never been involved in scam actions. Every lady is interested to meet a foreigner for serious relationship, romance or friendship. The lady, who comes to the date, is exactly the lady, whom you have chosen from the ladies catalogue.
Fast plan a
1) Check our website www.agape.kiev.ua and prepare a list of ladies, whom you'd like to meet. (Email this list to agapekiev@mail.ru or call +380677083638
2) To make a better choice you have to use the profile search option. You can specify your search with such criteria as: city, age, hair color, English level, height etc.
3) Call us at +380677083638 to fix an appointment with local matchmaker in our office or in your hotel in Kiev. - We can meet you from 10 AM till 11 PM and help you to choose ladies from the album according to your wishes.
We can help you to find a good apartment for you! Please, use our website: www.bantik.kiev.ua We have a large number of one- two- three-rooms flats in the center of Kiev. The flats are modern, in Euro-style and safe. We can meet you at the airport any time. All apartments have free internet, kitchen is equipped with everything you need, and all the necessary furniture, bed linen, towels, TV are in the rooms. Every three days is a free cleaning of your chosen laundry, at any time you can get advice and help from our managers. Apartments are located in the city center; there are many shops, restaurants, amusements nearby. You can find the apartments with fewer prices too. We have home-stay (B&B) service too, including breakfast, an owner of flat speaks English.
With all good wishes for your success in a romantic relationship International marriage agency Agape
Contact
AGAPE marriage agency
Director: Plaksina Anastasiya
Office address:
prov. Tarasa Shevchenka, 7b
Kiev, Ukraine.
Tel., Viber, Whatsapp: +380 (67) 708-3638
Tel: +380 (63) 957-6682
Mail: agapekiev@mail.ru
Skype: anastasiyadarina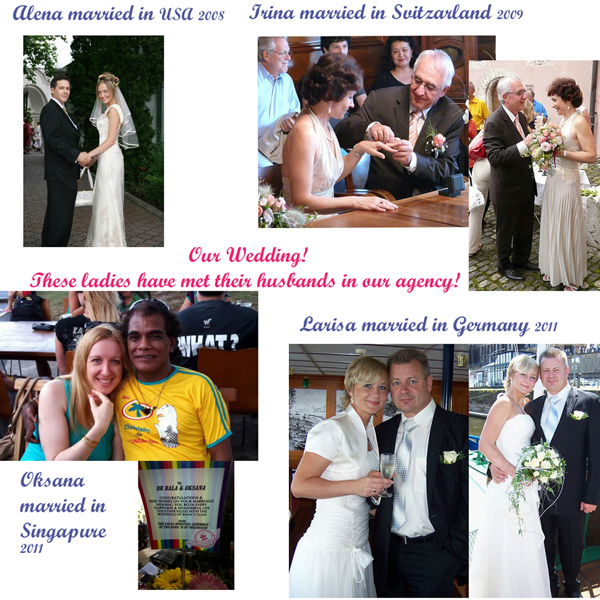 2017 events
Party, dating, tours, weddings...
2016 events
Party, dating, tours, weddings...
2015 events
Party, dating, tours, weddings...
2014 events
Party, dating, tours, weddings...
2013 events
Party, dating, tours, weddings...
2012 events
Datings
Party
Gifts
Marriage
For German television
Tours
EURO 2012
2011 events
December 28 party
December 2 party
Footage for German television
Meetings
2010 events
Photosession from French photographer
Carnival (Crimea, cape Tarhankut, January)
Guests from Japan
A visitor from New Zealand
2009 events
Irina and Paul married in Zwitserland, Bern
Alena and Mike from Usa, married. First time meeted in Chateau cafe at Khreschatyk street. Meeting was organised by our agency.
2009 party
2008 events
party
2007 events
Halloween party!
2006 events
2006 party