Acquaintance and others
Individual dates with girls from our unique database in catalogues or in the Internet:
ˆ50 per.introduction.
ˆ120 3 introduction(if you pay in one payment)
ˆ70 introduction with VIP ladies.
ˆ100 introduction with VIP100 ladies. (ˆ90 afer 5 meetings)
Private conatcts of ladies (price the same as for meetings)
ˆ50 Information Services support per.month
s+ (mean agency mark her like really serious).
About the meetings
Meeting with a lady will take place in restaurants or in office. The first meeting usually lasts about 1 to 2 hours. If the lady doesn't speak English, an interpreter will stay duration the meeting too. During the first date you can ask her personal phone number, e-mail so you can arrange next meeting on your own. You can also spend a date with a lady in the office in the center of Kiev.
Invite lady to visit you in your country or romantic tour.
You pay bonus to agency if women go with you. We can support lady with visa,ets.
Romantic Tour. Romantic week-end in Kiev.
Package deal: Kiev, Ukraine. Included:
Transfer from and to airport
7 nights in the center of Kiev euro-style apartment (or or other number of days).
Datings with ladies who like you and you like them
Sightseeing Excursions in Kiev
Beautiful and intelligent women with good character want to meet men from West Europe, USA, Canada, Australia to start serious relation and have family. Do you think all women in Kiev want to leave Kiev and family and go with you? This is possible but you must be realistic. We book for you good apartment, restaurant for date. We advise you stay not less for 1 week, because you need to know the person you meet. A few days is too short.
Women need time also to know you. Serious relation it is difficult. We'll help you with selection. You want girl from village or city etc. Read more: www.kievlovetour.blogspot.com
Consultations on the psychology of communication, etiquette with Ukrainian girls Specialist PhD Svetlana Ivanova:
Features of wedding ceremony in Ukraine: a) Presentation of the parents. b) The marriage rite. c) Marriage.
Features of the psychology of Ukrainian women (etiquette): a) Introduction. b) Communication.
System and method for family constellations:
(Held from the center of global relations.)
www.rastanovki.blogspot.com
Organization of parties
Mini party- Many girls are invited, a disco, food and drinks are available. You can tell your wishes what kind girls you want to see.
Party- almost every month big PARTY in Kiev. Fun atmosphere, live music, refreshments. There are fun party atmosphere, food, drinks, dancing, music in big cafe, many Ukraine people. (Review from last party in september 2013 - It was a very good party. Met real people, talked, danced, laughed I had a good time. Nate from USA)
Acommodation
Booking in comfortable one-two-three room apartments in the center of Kiev from 35ˆ per.night B&B homestay from 10ˆ per.night www.bantik.kiev.ua www.airbnb.ru/users/5010204/listings
Transfer
Pick up by a taxi driver or a representative of our agency at the airport, train and bus station and transfer to your apartment or hotel at any time of day and night.
Services of an interpreter and assisting
Interpreting (10-20ˆ per hour). Assistant on dates (10-20ˆ per.hour)
Help to get a train and airplane ticket (10-15ˆ).
The study of Russian and Ukrainian language
Hello everyone, my name is Pavel I am translator and interpreter of English-Russian-Ukrainian language. If you planning your trip within Ukraine, or you already here and thinking to find out more about Ukraine or start communicating with your new Ukrainian friends by means of local language, but don't know the language yet... Don't be frustrated too much, I'd love to help you providing online Russian/Ukrainian language classes. bantikus@mail.ru
After few lessons you will feel that you can speak and understand the people whom you're talking to. You wanna try, let's get started!
or Nice School of language learning in the center of Kiev.
A GUIDES (Consultant, accompanying, translation )
Daytime guide — the beautiful lady with magnificent knowledge of language and sights in Kiev, will pleasantly surprise you with care and attention (10-20 per hour).
Nightclub guide — the beautiful girl with magnificent knowledge of language and hot night life of Kiev.
Personal Assistant . A women who will come to you and answer all your questions in English or another language, will assist you in a stay in Kiev, accompanying guide in Kiev and around Ukraine.
"Hunting" in street.Our assistant will help you to get acquainted with pretty girls on the streets, cafes and other places in the city of Kiev. our guides: www.tourinkiev.blogspot.com/p/blog-page_38.html
Arrangement for photos
Photo models for photo session.
Order additional photos of girls from the base of the agency.
Romantic photo shoot for you and your lady.
Placing advertisement in newspaper
Individual advertising campaign in newspapers, magazines 100 euros. The newspaper "Âàøà ñóäüáà" "Your destiny" and others read more than a million people in Ukraine.This is convinion if you are looking for a women from a small town and village.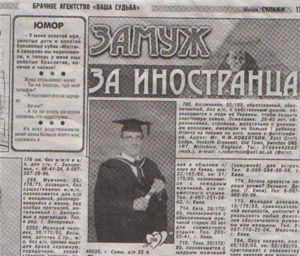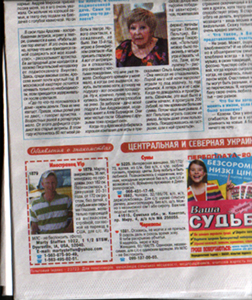 A lot of ladies in Ukraine from smaller towns and villages do not use Internet, so they will actually read your advertisement in the newspaper and write you a letter by post-mail ore send you text-message. We give the advert of the popular publishing house which has newspapers and magazines dating, which are distributed throughout Ukraine. We'll print your ad in the Magnat publishing house- the publisher of newspapers Meeting, Your destiny and others. These newspapers have a large circulation across Ukraine.You get romantic letters from women.
Excursions, recreational activities
In Kiev
Walking 10-15ˆ per.hour. By car 20 ˆper.hour
The main attractions in Kiev (Sophia Cathedral, St. Andrew's Descent, Vladimir Hill, Pechersk Lavra, etc.).
Dynamo Stadium, the fan-club soccer team Dynamo Kiev, visiting football matches.
Riding on a tourist boat on the Dnieper.
Archery club.
Chess club in the park under the open sky.
Park of Fam, Pesherskaya Lavra and Caves, the Museum of the Great Patriotic War, Museum of Afghanistan, Cultural-Art and Museum Complex "Art Arsenal".
Florovsky female active monastery and other churches in Kiev.
Podol — the oldest district of Kiev. St. Andrew's Descent - buying souvenirs.
Chernobyl Museum.
Trukhanov Island, Gidropark and other beaches of Kyiv.
Disco and night clubs in Kiev.
A flea market in Kiev.
Visit to the theaters, opera, ballet, philharmonic, circus....
Visit Museums of Kiev: Great Patriotic War, the Russian art of Ukrainian art, Western and Eastern Art, and others.
Russian bath (sauna).
"Mamajeva sloboda" ethnographic complex-park.
National complex "Expocentre of Ukraine".
Zoo.
Kitayev Monastery.
Fashion shops in Kiev.
Babi Yar memorial complex and Kiev synagogue.
Bulgakov Museum.
Book market (the largest in Kiev).
National History Museum.
Yachting.
Riding in a limusine.
A trip to the retro tram.
Hot air ballooning.
Dolphinarium.
Excursion by car in Kiev and the surrounding area.

Outside Kiev

Aviation Museum.
Chernigov town.
"Kievan Rus" ethnographic complex-park.
Ostrich Farm.
Åthnographic museums. "Pirogovo".
Visit the stables, horse riding.
Accommodation in a simple farm house in an ordinary Ukrainian village. (Kiev region).
Trips to small towns near Kiev (Vasilkov, Chernihiv, Bela Zerkva).

Wellness:

SPA-center
Spa treatments
Dentist
Osteopath


For study and Self-development:

lessons:
Russian, Ukrainian language
Massage
Drawing(Painting)-studies in nature, classes in the studio.
Swimming
Ukrainian cuisine
Horseback riding
Make chocolate master class.
Board games www.gameandparty.blogspot.com

look more www.tourinkiev.blogspot.com
Business
Help:
Buying and rent real estate.

To order a gift, contact us: e-mail agapekiev@mail.ru, phone +380677083638

After delivery we send a photo to your e-mail.
Gift List here: List

Examples of gift delivery
| | |
| --- | --- |
| small box of chocolates $8 | small soft toy (20 cm) $8 |
| roses average: per.rose $3.00 | ñandy "Raffaello" $10 and 15 multi-colored tulips $20 |
| a basket of chocolate $70 and 15 large roses: per.roses $3.50 | 31 big roses, $3.50 per rose |
| large box of chocolates $15 | large box of chocolates $15 |
| bouquet of spring flowers $30 | perfume $50 |
Our guides
.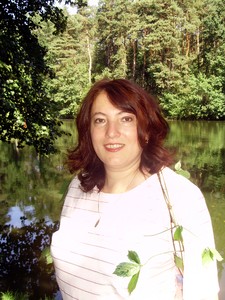 Ludmila
Speaks English.
Lyudmila gladly hold you tours churches and monasteries of Kiev, Babi Yar, the book market.
Also consultant and accompanying on dates with ladies.Accompanying guide in Kiev and Ukraine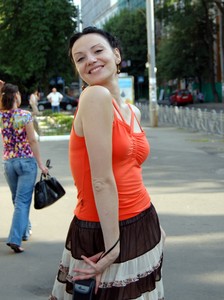 Ekaterina

Speaks English.

Katya loves to hike into town Chernigov near Kiev, as well as the stables,

the Museum of the Great Patriotic War.

She will glad to show you night clubs in Kiev.

Also consultant and accompanying on dates with ladies.

and many others...